The 89th MLB All-Star Game is scheduled to begin tonight at 7:00 PM CST at Nationals Park in Washington D.C. This is actually a very historic day for the White Sox as our boy, Jose Abreu, will be representing the team for the American League and starting at first base. His starting status marks the first time in over 20 years that a White Sox position player has won the fan vote and been elected to start. The last player to receive the honor was none other than "The Big Hurt," Frank Thomas in 1996.
Abreu acknowledged the historical significance of this All Star Game and was very humbled by fans' selection. He stated in an interview with the media, "It means a lot when you realize all the time that has passed since the last White Sox [player] to start in the All-Star Game, or for the fans to vote him into the All-Star Game…That made this moment even greater."
This is Abreu's second time making the All Star Game, the first being in 2014 during his AL Rookie of the Year campaign. Abreu was red hot that season, posting a .317/.383/.581 slash line with 36 home runs by the season's end. This year, the first baseman started off in a similar fashion, but his recent slump has led his batting average to fall from .319 on May 26th to .253 today. Pito isn't fazed by his recent misfortune, claiming that retaining confidence is the only way to overcome your hardships at the Major League level.
Abreu will be the sixth ever Sox position player to be given the honor of starting for the American League. He will be joining the likes of Frank Thomas, Carlton Fisk, Richie Zisk, Dick Allen and Luis Aparacio to ever do it.
The most recent starters for the White Sox have all been pitchers and include guys like Chris Sale (2016), Mark Buehrle (2005), and Esteban Loaiza (2003). Despite this, the White Sox have provided a ton of All-Star reserves in recent years. Here's a list of all of the Sox players who have made it to the Midsummer Classic during the past 20 seasons:
Ray Durham (1998, 2000)
Magglio Ordonez (1999, 2000, 2003)
James Baldwin (2000)
Mark Buehrle (2002, 2005, 2006, 2009)
Carl Everett (2003)
Esteban Loaiza (2003, 2004)
Jon Garland (2005)
Paul Konerko (2005, 2006, 2010, 2011, 2012)
Scott Podsednik (2005)
Jose Contreras (2006)
Jermaine Dye (2006)
A.J. Pierzynski (2006)
Jim Thome (2006)
White Sox Coaching Staff (2006)
Bobby Jenks (2007)
Joe Crede (2008)
Carlos Quentin (2008, 2011)
Matt Thornton (2010)
Adam Dunn (2012)
Chris Sale (2012, 2013, 2014, 2015, 2016)
Jake Peavy (2012)
Jesse Crain (2013)
Jose Abreu (2014, 2018)
Alexei Ramirez (2014)
Jose Quintana (2016)
Avisail Garcia (2017)
Back to tonight's game, here's a look at the starting lineups you can expect to see this evening: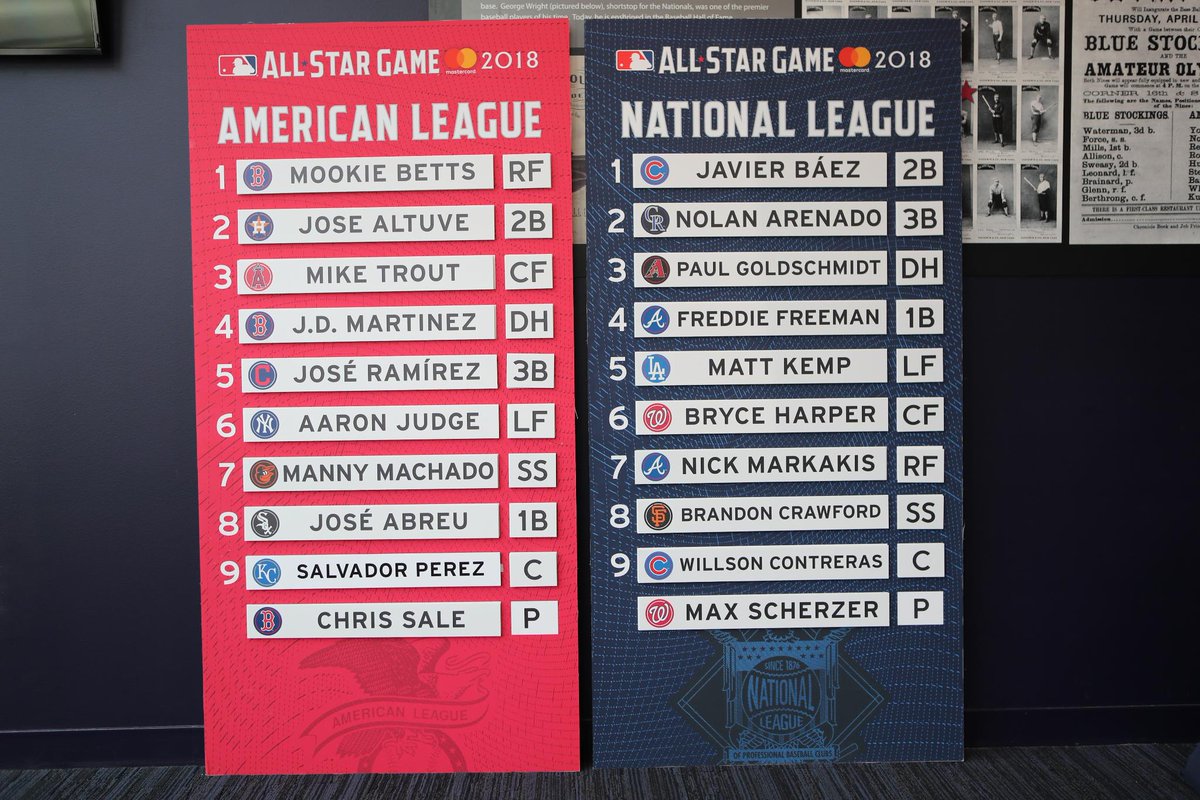 If you look closely, you'll notice that Jose Abreu will be joining his old teammate and starting pitcher Chris Sale on the diamond. Abreu will be batting 8th for the American League and will most likely be facing National League starting pitcher Max Scherzer or Jacob DeGrom in his first at bat. This will be a historic day for the White Sox organization and a memorable one for sure. Be sure to tune in and cheer on our beloved Jose Abreu and the American League! Coverage is set to begin at 6:30 PM CST on FOX.